You don't know me, and I want to keep myself anonymous because I am still in practice and have a presence in the naturopathic profession.
I received an anonymous email this morning from a naturopath who currently sits on the American Association of Naturopathic Physicians (AANP), House of Delegates (HOD). The HOD serves as one of the main AANP bodies responsible for most of the work involving policy, ethics, position papers, bylaws and other organizational tasks.
The email is timely. This weekend, the AANP is celebrating its 30th anniversary with a conference in Oakland, California. Members of the HOD are meeting to discuss and revise key aspects of the naturopathic profession.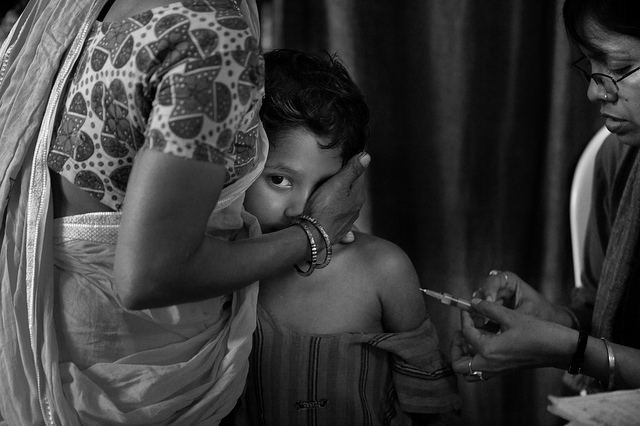 An important item on this year's agenda is the AANP's position on vaccinations. Readers may remember an early post of mine that included the AANP's current position paper. That paper gives, at best, a very weak head nod in the direction of recommending vaccines. The paper does not refer to any vaccination schedule and is loosely structured, which easily allows naturopaths to make up their own vaccination schedules or avoid immunizations altogether. Now, it seems change is in the air. 
The Leaked Position Paper on Naturopathic Vaccines
The HOD member who contacted me has shared the new, "secret" AANP draft position paper on immunizations as well as a new AANP guidance of care document. The latter is meant to serve as a guideline for a naturopathic practice. These papers also seem to have been mistakenly made public on the New York Association of Naturopathic Physicians website.
The first noticeable difference between the current position paper and this revised version is the length. This new paper is considerably longer. It also specifically mentions the CDC immunization schedule.
On this point, the HOD member wrote to me:
it's in there because the big wigs need political cache for licensure not because this stance reflects the profession as a whole. Another HOD member said that most people won't read the whole thing, but they will see "CDC" and be content enough.
Even if the sentiment is false, this new draft appears to be a major improvement over the AANP's policy on childhood vaccinations from 2001.
I found it particularly interesting that the new document admits that
There is currently no definitive evidence supporting any particular alternative vaccination schedule.
And then the HOD got creative. They claim that naturopaths will be the first practitioners to which families who have been fired by pediatricians for not following medical advice will turn. Therefore,  it seems naturopaths are really helpful for advice on how to get caught up, right?
Many families are removed from or refused entry to medical practices due to their vaccination hesitation, resistance, or requests for an alternative vaccination schedule, and they therefore seek out naturopathic physicians for care and vaccine guidance.
This seems like a bait and switch move. I highly doubt that naturopaths will take these patients and guide them back on the vaccine bandwagon. Given my experience, naturopaths tend not to push back when patients are expressing their "freedom" to spread vaccine preventable diseases.
The document also makes sure to include good homage to naturopathic traditions by stating,
Additional measures should also be recommended to reduce the risk of vaccine-preventable disease including healthy diet, regular exercise, routine hand washing, optimizing immune function, and breast-feeding.
They forgot to mention homeopathy as a means to "vaccinate." (More on homeopathic vaccines.)
Check out the paper for yourself from the link above.
Politics over Public Health
According to my HOD source, the decision for the AANP to revise the position paper is more to do with political maneuvering and less to do with public health. He/She writes that since the passing of SB 277 in California
AANP officials are starting to understand that if they don't get ahead of this issue as more and more [states] begin to pass similar laws, then naturopaths will be viewed unfavorably by lawmakers. The real fear is that initiatives to push through licensure in un-licensed states will die a miserable death. New York and Massachusetts are big right now, with the AANP putting a lot of money and effort to seal the deal after years of trying.
Several weeks ago, SB 277 became law in California which eliminated vaccine exemptions based on personal beliefs. When I practiced as a licensed naturopath in Washington state, I signed many vaccination exemption forms for non-medical reasons. I considered myself to be pro-vaccine while simultaneously providing children with an alternative vaccine schedule almost exclusively. I suppose this is what the AANP might mean when they claim NDs are pro-vaccine? I don't think I had one child patient who was on the CDC schedule.
I am pretty sure I was not the only one. In fact, Scott Gavura wrote a nice review of the attitudes and practices of licensed naturopaths on immunizations. It should come as no surprise that licensed naturopaths are not anywhere close to pro-vaccine. I would argue that this is because naturopathic doctors are taught alternative vaccine schedules in their accredited schools. My syllabi from my Bastyr courses include several texts on alternative schedules with anti-vaccine rhetoric.
It's clear that AANP officials should have anxiety that laws such as SB 277 may create set-backs for naturopathic medicine when trying to expand licensure in states where they are not licensed and broaden naturopathic scopes of practice where they have already gained a foothold. Their rank and file are almost entirely not pro-vaccine.
I found evidence that some fear about how their anti-vaccine profession was perceived by outsiders started well before 2015. During an AANP HOD meeting on August 16, 2011, a board of directors representative stated there is "concern about the negative light the [current immunization position] paper may cast."
It seems that AANP officials can now rest assured. In four years, they appear to have figured out how to blatantly misrepresent their profession to the public.
Naturopathic Vaccine Advocacy is a Ruse
In contrast to the AANP's political platform, licensed naturopaths largely do not believe that the CDC immunization schedule is the safest or best approach for immunizing children.
The HOD member who wrote to me provided this anecdote:
There was a survey conducted across the entire profession about how NDs felt about vaccines, and the results were very disappointing. The majority view was that vaccines should be delayed and many never received. A small percentage, like 3%, believed in the full CDC schedule. This report wasn't troubling for the AANP, as much as it was troubling for us to try and figure out how to balance this anti-vaccine belief into a position paper that the AANP can use to outwardly show to politicians that we support vaccination.
I find it really troubling that the HOD didn't seem to make it a priority to make sure that licensed naturopaths understand that vaccines are overwhelmingly safe and a mandatory intervention for a healthy society. Instead, they appear to have been focused on covering up the problem by drafting a document loaded with what lawmakers need to know about naturopathic medicine in order for the AANP to reach it legislative goals. Naturopaths have been fairly successful at misleading politicians into believing that they support and agree with the CDC immunization schedule and that they are supposedly trained in real medicine.
Recently, Colorado naturopaths successfully lobbied for the expansion of their scope of practice to include treating children under the age of 2 years, whom they were previously barred from treating. A letter written by the AANP president in support of naturopathic care for children, submitted to the Colorado Senate Committee on Health and Human Services, presents a carefully worded position of vaccine advocacy. Given that the AANP leadership seems aware that a huge percentage of licensed naturopaths are anti-vaccine, this written testimony should be considered fraudulent.
I believe that the Colorado naturopaths were successful due to direct statements like this one and others, including one from the Colorado Academy of Pediatrics. Unless politicians are extra vigilant by reading between the lines and looking at the wider context of the naturopathic profession, they may fail to realize they have been given misinformation about how licensed naturopaths really practice.
The AANP needs to figure out what to do with a community of health care "professionals" who are overwhelmingly anti-vaccine while pushing a  lobbying effort saying the exact opposite. This disparity might already be costing the organization. The HOD member who wrote to me says,
This new paper is causing a lot of ruckus. Most NDs are really pissed off. We are gathering in Oakland this week for the 30th anniversary, and already there is rumbling about conspiracy, unethical decisions, civil liberties, and so on.
Could this new position paper divide the profession? Will a group of truly pro-vaccine naturopathic doctors come forward?
From my experience, I think this is a watershed moment for the profession. Finally, naturopathic support for vaccines! As I have said before, the profession must undergo dramatic changes if it is to be considered a legitimate medical profession. This new draft position paper looks like a step in the right direction, but naturopathic organizations seem to have not always been honest and forthcoming.