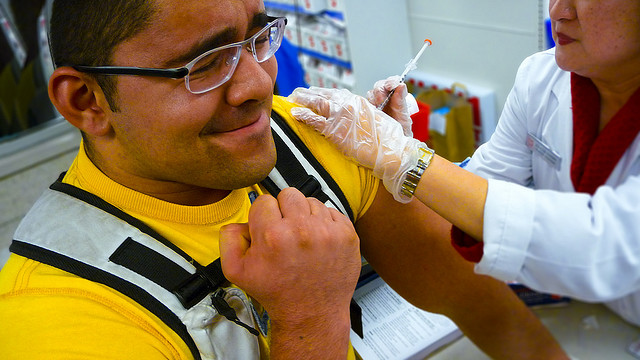 As part of my Master's of Science program in Kiel, I am required to complete a "hospitation." This means that I will spend a very brief amount of time in direct contact with patients who suffer from diseases related to my research.
In order to participate in this hospitation, students are required to meet with a physician to ensure good health and confirm our vaccination status. In an email message regarding this health visit, our program coordinator informed us that vaccinations are mandatory. End of story.
This made me pause and think about last week's post regarding the American Association of Naturopathic Physicians (AANP) possibly updating their immunization position paper.
When I entered Bastyr University's teaching clinic, Bastyr Center for Natural Health (BCNH), as a naturopathic student, vaccinations were definitely not mandatory and still are not mandatory. 
Bastyr loves to describe its naturopathic medicine alumni as distinct and science-based primary care providers. However, Bastyr's teaching clinic fails to offer one of the most basic medical services: immunizations.
Student clinicians do not need to be vaccinated at Bastyr's teaching clinic
I distinctly remember entering BCNH in the summer of 2009 as a naturopathic student clinician. I was excited and ready to start seeing patients.
In order to start my naturopathic clinical training, I needed to be tested for Tuberculosis with the PPD test and the clinic needed to know my Hepatitis B vaccination status. If I was unvaccinated or unsure of my vaccination status, I could schedule an appointment at Walgreen's for the 3-shot series.
Or not. I could also sign a waiver stating I preferred not to get vaccinated for Hepatitis B.
For the other CDC recommended vaccinations for healthcare workers, Bastyr faculty and staff never mentioned these essential vaccines. Nowhere in the Bastyr Student Clinician Handbook do these vaccine recommendations even appear. It is common for any healthcare facility to require medical staff to be vaccinated against the seasonal flu, MMR, chicken pox, Tdap, meningococcal, and Hepatitis B.
In hindsight, I find it strange that information was never provided to Bastyr students regarding the communicable diseases healthcare workers risk contracting from patients. I am even more surprised that no one discussed the possibility of non-immunized naturopathic students exposing patients and family members to communicable diseases.
Naturopathic primary care does not include proven disease prevention
While I was a naturopathic student from 2007 through 2011, no immunization  services what-so-ever were offered at BCNH, not even through Washington state's Childhood Vaccine Program. (This is a state and federally funded program that provides vaccines to participating clinics free-of-charge.)
Sadly, BCNH still does not participate in this free and awesome public health program and does not offer immunizations for adults. I called BCNH in Seattle and asked about immunizations offered at the clinic. The receptionist kindly informed me that the clinic does not provide any vaccinations for children or adults.
A search for the word "vaccine" on the BCNH website returns no results. The pediatric wellness page, which describes the benefits of naturopathy for children, does not mention vaccinations. The woman's wellness page fails to discuss the HPV vaccine. The senior wellness page does not mention the Shingles or Flu vaccinations. And of course, the immune wellness page talks about acupuncture, Chinese herbs, and naturopathic medicine for improved immune function.
To me it seems, Bastyr is an unwelcome place for vaccinations.
Feeding the political beast
Bastyr University and the American Association of Naturopathic Physicians (AANP) insist that naturopathic medicine is a distinct form of primary care medicine that reduces healthcare costs and improves patient outcomes. In reality, because this "distinct" form of alternative medicine fails to incorporate vaccinations into its practice, naturopathic medicine can never be like how it's promoted. I believe it is impossible for a medical practice to reject one of the most effective methods to prevent disease while at the same time claiming to reduce cost through preventative medicine. Those who reinforce this contradiction are immoral and dangerous.
I think it is a nice gesture that the AANP has drafted a new immunization position paper that suggests support for the CDC childhood immunization schedule. Yet, there remains a huge rift between the words in this new position paper and the practices of naturopaths in North America, even at their U.S. Department of Education accredited schools.
Until I see naturopathic teaching clinics offering and promoting immunization services to patients, I will continue to believe this new position paper is exactly what the naturopathic profession embodies: a bunch of marketing bullshit.