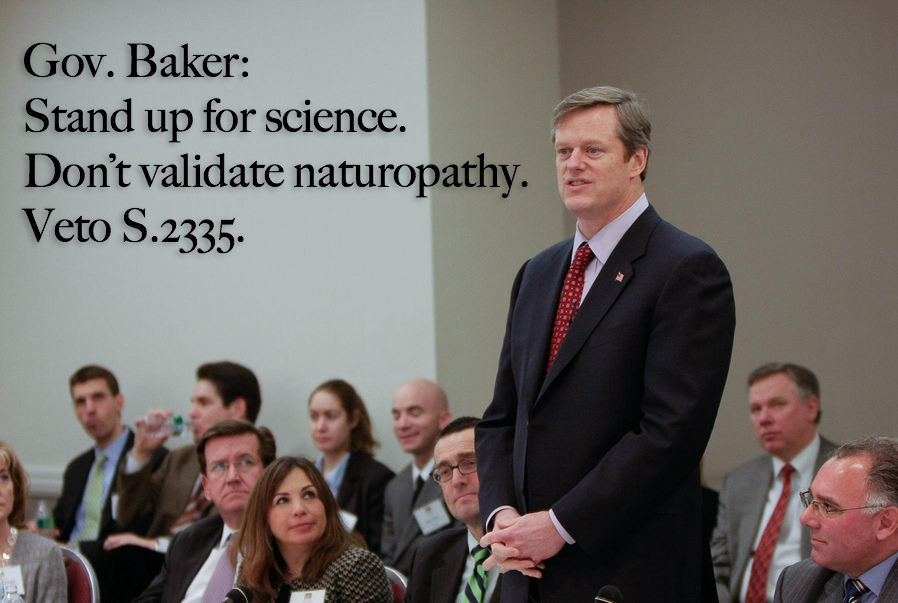 I learned late last week that the Massachusetts legislature passed the latest installment of the naturopathic licensing bill S.2335 in the final minutes of the 2016 legislative session. The bill is currently sitting on Governor Charlie Baker's desk. He has a few days to sign the bill, which would make Massachusetts the 19th state to license naturopaths. If he does nothing, S.2335 will die from a pocket veto.

Senate bill 2335 is asking a lot. It allows naturopaths in Massachusetts to call themselves "doctor," diagnose disease, order lab work, treat patients of any age, and essentially work as a physician. I encourage readers, and lawmakers, to check out Jann Bellamy's post detailing S.2335 at the Science-Based Medicine website.
Naturopaths are not qualified to manage any kind of medical care. As a former licensed naturopathic doctor myself, I have seen first-hand how licensing naturopaths to act as doctors results in harm and needless expenses.
I practiced naturopathy for three years. I witnessed harm inflicted on patients in every naturopathic clinic where I worked. In all cases, the naturopaths at fault were practicing just as they had been trained to do. But the treatments were ineffective and costly at best; at worst, they were deadly. Continue reading →