My husband, Taylor, contributes another article for ND this week. He depicts a gruesome tale of a field chef mutilating his hand. Taylor then eloquently relates this experience to naturopathic education by examining reading assignments for Bastnyr's basic and clinical science courses and the faculty who teach them. Enjoy!
---
Where Archaeology and Medicine Meet
I have almost zero medical training. I am CPR and first aid certified with the American Red Cross, and my medical experience has been limited to bandaging the blistered hands of undergraduate archaeology students in Kazakhstan. One year, my first aid training was put to the challenge when our local cook in Uzbekistan sliced off his thumb.
Before breakfast, he had tried to smooth the edges of a wooden cutting board with a large knife. Rather than accurately widdle the rough spots down, he gripped the board and held it up against his waist for firm support as he hacked at the edge. He was applying so much pressure to the board and force to the knife that when he missed, the blade went right into the end of thumb and out the other side.
That morning, out of our tents and hungry, we found him sitting next to the cooking fire, his thumb wrapped in bloody cheesecloth. "We're not having breakfast today."
But lunch was on. He still wanted to work! He refused to be taken to the medical clinic, because that five-hour jeep ride would have ended his summer income.
He wanted his thumb to be exposed to the air or wrapped up in that dingy cloth. That was a stupid idea. First, he was cooking our food. Second, we were in remote mountains, and it was dirty. The project director and I insisted that he listen to me for his own well-being. After much back and forth, he let me clean, apply antibiotic ointment, and wrap up his thumb. Then a few hours later, he decided his thumb was healed, so he ripped off the bandage, which caused another bloody mess.
For days, I re-cleaned, re-applied antibiotic, and re-wrapped his thumb. Everyday he would rip off the bandages and toss them into the fire, so, as he said, "the blood doesn't attract the wolves."
It was a thumb war. Luckily, he didn't get an infection, but unfortunately, we didn't hire him again.
Chipping Away at Naturopathic Education Claims
As I've been following Britt's saga and learning more about naturopathic education, I thought this story would be relevant, inasmuch as archaeology and medicine overlap, to a pattern I've noticed in the many anecdotes I've read about her former profession. When I was managing the cook's thumb injury, I knew it was a moderate medical emergency, but we acquiesced to his demands that he remain with us and work under the condition that I monitor him. Who was I to think I had the skill set to know what to do? His thumb was messed up, and he was in a lot of pain. Did he damage a nerve? Was he ever going to stop bleeding? Could he develop chronic pain or even gangrene? Could a doctor have re-attached the dismembered piece?
In this situation, I knew I was overstepping my first-aid training, but I did it anyway. After a day or so, I remember having a delusional rationale, "I've got this."
Why?
I think I made this cognitive error for similar reasons to naturopaths in thinking they can treat patients as though they are physicians. Naturopaths want to please. They want their patients to feel like they are pulling weight in the clinical picture. Naturopaths cannot afford to be hard asses, so they want everything to just keep on keepin' on.
Students are indoctrinated in thinking that their naturopathic education makes them qualified to practice medicine as primary care providers. In defining their scopes of practice for real medicine, they either place a point of reference at MDs and DOs or mid-level providers, like physician assistants and nurse practitioners. These two medical professions have been granted great responsibility by society, and their training reflects this burden.
Britt has already shown that naturopathic clinical training is laughable compared to what medical students receive. The naturopathic schools claim to provide at least 1,200 hours of clinical training, but much of this time is spent learning bogus therapies on a vast majority of patients who have uncomplicated health conditions and often no clinically observable diseases. None of this training occurs in hospitals, and naturopathic rotations are extremely short, probably because students are required to continue showing up to class lectures in pseudoscientific topics like homeopathy, naturopathic manipulation, and others that appear on her transcript.
In my opinion, the matter is settled: naturopathic schools and organizations have utterly misrepresented ND clinical training, and what little training they give in the 561 hours that most closely resemble primary care is more or less hogwash according to medical science.
However, this is only half the picture of naturopathic education.
Whole Systems?
I've noticed that naturopathic groups sometimes pull away from an emphasis on clinical training in their advertizing and instead highlight that material taught in class lectures prepares ND students to be physicians.
For example, refer to these excerpts:
"A licensed naturopathic physician (ND) attends a four-year, graduate-level naturopathic medical school and is educated in all of the same basic sciences as an MD, but also studies holistic and nontoxic approaches to therapy with a strong emphasis on disease prevention and optimizing wellness. In addition to a standard medical curriculum, the naturopathic physician also studies clinical nutrition, homeopathic medicine, botanical medicine, psychology, and counseling." http://www.naturopathic.org/education
"The AANMC member schools are four-year professional level medical programs that result in a doctor of naturopathic medicine degree/diploma (ND). Students are educated in all of the same basic sciences as an MD or DO as well as the latest advances in science in combination with natural approaches to therapy, disease prevention, and clinical education. In addition to a standard medical curriculum, the naturopathic physician is required to complete four years of training in clinical nutrition, acupuncture, homeopathic medicine, botanical medicine, physical medicine and counseling." http://aanmc.org/naturopathic/faq/
"Educated in all of the same basic sciences as a medical doctor (MD), a naturopathic doctor uses the Western medical sciences as a foundation for diagnosis and treatment." http://www.bastyr.edu/academics/areas-study/study-naturopathic-medicine/about-naturopathic-medicine
"Our naturopathic medical degree program is comprised of rigorous academic study and extensive supervised practice. You'll learn the same basic sciences as you would at a conventional medical program and additionally, you'll learn all the naturopathic therapies. Graduates become primary care physicians with a focus in preventative medicine and natural treatment." http://www.scnm.edu/academics/doctor-of-naturopathic-medicine/
"As a student in the naturopathic physician program at National, you will study the same basic sciences as an MD, but you will learn holistic and natural approaches to therapy with a strong emphasis on disease prevention and optimizing wellness. You'll study alongside students from other professional degree programs and thereby have the opportunity to share perspectives and experiences." https://www.nuhs.edu/academics/college-of-professional-studies/naturopathic-medicine/
Is is true that naturopathic students get the same basic sciences education as medical students? Are they challenged according to a conventional medical curriculum? Does the ND degree demand rigorous academic study?
Naturopathic Reading Data
Britt has a collection of her course syllabi for every class she took at Bastyr. Many, but not all, of these documents contain the courses' reading assignments. I decided that a simple presentation of the books that were required and recommended in addition to the actual number of pages of assigned reading for some of her basic and clinical sciences courses would help answer the above questions. (I wish I had comparable data for other medical professional degrees, so I will have to leave it up to someone else to compile these.) I was able to pull data for 12 basic and clinical sciences courses. Of the classes I sampled, all were singular courses in that subject, except for pediatrics, which is a two-part series with an optional advanced course.
Let's begin with a list of the required and recommended texts for these courses:
BC 5110 Histology
Required:
Wheater's Functional Histology (5th edition). Young et al.
Histology Laboratory Guide. Love and Frederickson.
Recommended:
Basic Histology: A Text and Atlas (11th edition). Junqueira and Carneiro.
Histology: A Text and Atlas (5th edition). Ross.
Color Atlas of Histology (3rd edition). Gartner and Hiatt.
diFiore's Atlas of Histology (9th edition). Eroschenko.
BC 5112 Embryology
Required:
The Developing Human, Clinically Oriented Embryology (7th edition). Moore and Persaud.
Recommended:
Human Embryology (3rd edition). Larsen.
Langman's Medical Embryology (9th edition). Sadler.
Dudek's Board Review Series on Embryology
BC 6204 Immunology
Required:
Janeway's Immunobiology (7th edition). Murphy et al.
BC 6209 Infectious Disease
Required:
Medical Microbiology (4th edition). Mims et al.
The Sanford Guide to Antimicrobial Therapy. Gilbert et al.
NM 7313 Gynecology
Required:
Novak's Gynecology (14th edition). Berek.
Women's Encyclopedia of Natural Medicine (2nd edition). Hudson.
Recommended:
Contraceptive Technology (19th edition). Hatcher.
Glass's Office Gynecology (6th edition). Curtis and Hopkins.
Women's Gynecologic Health. Jones and Barlett.
NM 7306 Oncology
Required:
Oxford Handbook of Oncology (2nd edition). Cassidy et al.
NM 7302 Gastroenterology
Required:
Naturopathic Gastroenterology. Yarnell.
NM 8308 Endocrinology
Required:
Basic and Clinical Endocrinology (8th edition). Greenspan and Strewler.
Endocrinology and Naturopathic Therapies (8th edition.) Powell.
PM 7305 Orthopedics
Required:
Photographic Manual of Regional Orthopaedic and Neurological Tests. Cipriano.
Recommended:
Physical Examination of the Spine and Extremities. Hoppenfeld.
Orthopedic Physical Assessment. Magee.
NM 7314 Pediatrics 1
Required:
Nelson Essentials of Pediatrics (5th edition). Kliegman et al.
Current Pediatric Diagnosis and Treatment (17th edition). Hay et al.
Herbal Treatment of Children: Western and Ayurvedic Perspectives. McIntyre.
Recommended:
Encyclopedia of Natural Healing for Children (2nd edition). Bove.
Superimmunity for Kids: What to feed your children to keep them healthy now and prevent disease in their future. Galland.
Medications and Mother's Milk (11th edition). Hale.
The Breastfeeding Answer Book (3rd edition). Mohrbacher.
Naturally Healthy Babies and Children: A Commonsense Guide to Herbal Remedies, Nutrition and Health. Romm.
Vaccinations: A Thoughtful Parent's Guide: How to make safe, sensible decisions about the risks, benefits and alternatives. Romm.
Pediatric Telephone Protocols: Office Version. Schmidt.
The Vaccine Book. Sears.
Naturopathic Pediatrics. Skowron.
Homeopathy for Children and Infants. Ullman.
NM 7315 Pediatrics 2
(same as NM 7314 Pediatrics 1)
NM 9316 Advanced Pediatrics
Required:
Current Pediatric Diagnosis and Treatment (17th edition). Hay et al.
Recommended:
Naturopathic Pediatrics. Skowron.
Pediatric Telephone Protocols: Office Version. Schmidt.
Herbal Treatment of Children: Western and Ayurvedic Perspectives. McIntyre.
Encyclopedia of Natural Healing for Children (2nd edition). Bove.
Homeopathy for Children and Infants. Ullman.
Deep breath.
Let's pay attention to the pediatrics 1 and 2 courses. These classes require a book that teaches Ayurvedic medicine for children, and they recommend several very questionable texts in herbal remedies, homeopathy, dubious nutrition, and vaccine alternatives. The Bob Sears Vaccine Book appears in this list, and it is the second listed vaccine alternative text! If this is not proof that naturopathic education is anti-vaccine, then I don't know what else could drive this point home.
At Bastyr, naturopathic students are exposed to these ideas in their clinical science courses in pediatrics and they then go on to rely upon this anti-vaccine ideology in practice where they can make up their own recommendations.
Three other courses listed above require texts based in naturopathy and alternative medicine: gynecology, gastroenterology, and endocrinology. In fact, gastroenterology only requires one book, which is written by a naturopath.
The other basic and clinical sciences seem to require and recommend books that would appear in curricula of programs at medical schools or nursing and PA programs. Although, I cannot know if this assumption is true. (Readers please help out!)
How Much Science or Pseudoscience?
I took this analysis a step further and counted up all of pages that were assigned for these courses. In the table below you will find each course presented alongside its lecture hours per Bastyr's 11-week quarter, its number of reading pages assigned for standard medical texts, naturopathic texts, and totals, the type of degree held by the main instructor, and a simple calculation of the average number of assigned pages per week.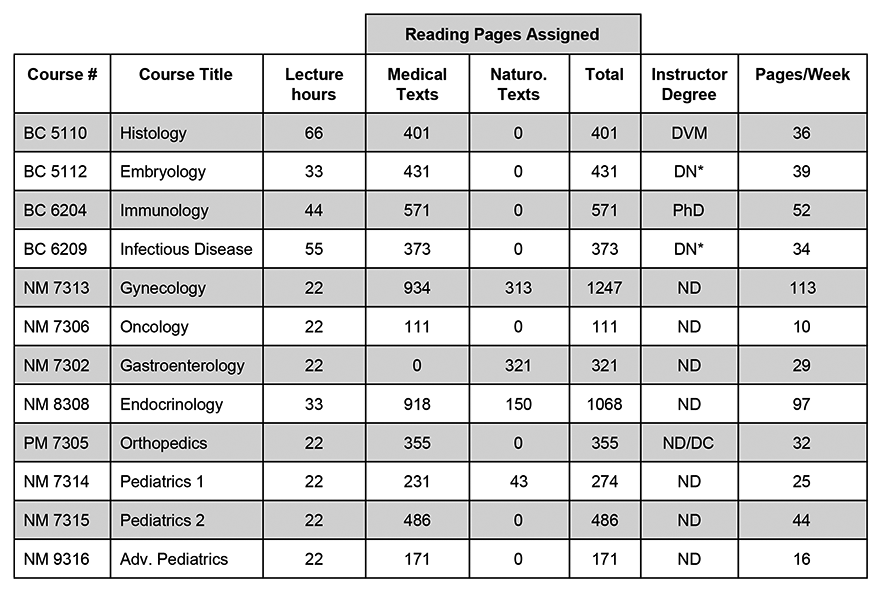 Like I said at the beginning of this post, I have no medical training and have not taken any medical coursework. I cannot comment on the reading load for such classes in a standard medical curriculum, but I'd bet a lot of money that medical students read at least an order of magnitude greater than any of these Bastyr courses.
However, I can compare the Bastyr reading load to graduate classes I've taken in anthropology. I can say that without a doubt no class I have ever taken in graduate school assigned less than 100 pages per week. For any lecture or seminar, I read multiple ethnographic monographs (these are long!), scores of peer-reviewed journal articles, and read many more hundreds of pages of articles in order to write a 30-50 page research paper per class each semester. This workload was standard. The reading load expressed in these 12 courses at Bastyr is meager, and anthropologists don't usually have people's lives in their hands.
From looking at the syllabi, I see that the assessment criteria for these classes seems a bit weak. None of the classes required a research paper, except Endocrinology. Britt reports that her paper was a review of oxytocin therapy for posttraumatic stress disorder; her paper is 3.5 pages long. Nearly all of the classes have take home exams, and many have in-class presentations which make up a significant percentage of the final grade (usually 20-30%). This finding recalls that Bastyr clinical training allows students to present to one another on a disease if they don't ever get first-hand experience treating a patient with said disease.
Who Is Teaching?
I'd also like to draw the reader's attention to the types of degrees that the instructors of these courses hold. You'll notice that 8 out of the 12 instructors have ND degrees. Remember these are basic and clinical sciences courses that are supposed to be on-par with a standard medical curriculum. Last I checked, medical school courses are taught by medical doctors, who also might have a PhD. There was one course, Immunology, taught by a PhD in my sample. Interestingly, a veterinarian co-taught histology, which is fine as his/her training is science-based. (This veterinarian also taught Bastyr students cadaver anatomy.) I guess it is not that surprising that a chiropractor taught orthopedics at Bastyr (this person also has an ND degree and is an acupuncturist–all three!). Then I learned something really weird.
You'll notice that I placed an asterisk next to the letters "DN." I did this so you'd know it is not a typo, but actually an abbreviation for "Doctor of Naprapathy."
What the fuck is that? (Excuse my French; I mean German.)
According to Wikipedia, naprapathy is an offshoot of chiropractic and osteopathic developed in the early 1900s by one of D.D. Palmer's early students. The system focuses on manipulative therapy of connective tissue and includes a host of weird therapies using temperature, light, electricity, sound, and air, among other "radiant energies." So yea, there is a person who is a so-called doctor of radiant energies teaching embryology and infectious disease to Bastyr's naturopathic students. Notice that for these classes, this DN had assigned an average of 39 and 34 pages per week respectively. That's not rigorous at all!
When I asked Britt if she remembered that particular instructor was a DN, she could not recall. She had never heard of naprapathy. Though she did cringe and report that those classes were "terrible."
Limitations
I'd like to acknowledge limitations of my analysis. First, I did not randomly sample these courses. Not all of Britt's syllabi enumerate reading assignments. I looked through all of the syllabi and found twelve that did have readings listed that were also basic or clinical science courses. Some of the syllabi listed the actual page numbers, which made counting convenient. Yet, many syllabi listed chapters or sections, which was annoying. I had to turn to the dark depths of the Russian internet to find digital copies of the books from which readings were assigned in order to count up the pages. (I then promptly destroyed the files.)
Despite this sample not being randomized, I argue that it doesn't need to be. In order for a naturopathic education program to claim its courses are on par with those of a medical school program, every single topic must be up to snuff. Falling below the bar in just one area severely limits a student's ability to understand the extreme complexity of human biology and clinical decision making. That is, a real medical program has to be comprehensive, otherwise it is nothing. Once components are removed from any course, the whole curriculum is deficient. Consequently, students are not as good, and then patients suffer.
Serious Lessons
In my opinion, these findings are a disgrace to a profession that claims to produce physicians. Why aren't other naturopaths or students sounding the alarm?
I'd argue that naturopathic students are already primed to chew up and digest the pseudoscience that is taught to them at schools like Bastyr. They are hungry to become the versions of doctors from which they are fed. When they take their basic and clinical science courses, they no doubt learn challenging material, and I'd guess that many struggle. Some of my theory is supported by the fact that all naturopathic schools offer 5-year tracts to earn an ND degree. Unfortunately, this accommodation is probably a necessity given that the admission standards are so low for naturopathic programs despite the course load not being anywhere near as demanding as real medical school.
The students are likely so obsessed with the ideological underpinnings of natural healing, anti-vaccine apologies, magical energies, life forces, yada-yada, that they cannot comprehend that no matter how many times one wields medical instruments or dawns a white coat, they don't know how much they don't know. They are stuck on the symbol of being a doctor but are not prepared for the gory guts of medicine.
It seems to me that such cognitive dissonance results in major barriers to the acceptance of science and real medicine. Naturopathic education looks like it is so insulated from outside scrutiny that anything goes inside the bubble. Because of its inability to integrate medical standards of care and jettison the junk science across the profession, naturopathic education trains students to keep patients happy with strong rapport. They are kind and charismatic. They tell patients what they want to hear: I'll let you vaccinate your kids later or never; I'll treat your cancer with these vitamins and herbs; I'll spend 90 minutes per appointment with you; or I'll constantly offer you hope and charm till the very end.
I understand why we kept our cook with his busted thumb at work. He needed the money and insisted he remain. We could have paid him in full even if he left early and hired another cook and been just fine. He didn't want a hand out, and he was tough.
But, the reality is that he was a bad cook. Our food was late and tasted bland. He overbought and wasted food. We should have sent him to the medical clinic and hired a new cook. He might yet have his thumb intact, and we might have eaten really amazing Uzbek food. Instead, we indulged him, but this decision placed his health at risk and was a gastronomical failure.
Lesson learned: always prioritize the standard of care and look at the whole clinical/archaeological picture.
Your gut depends on it!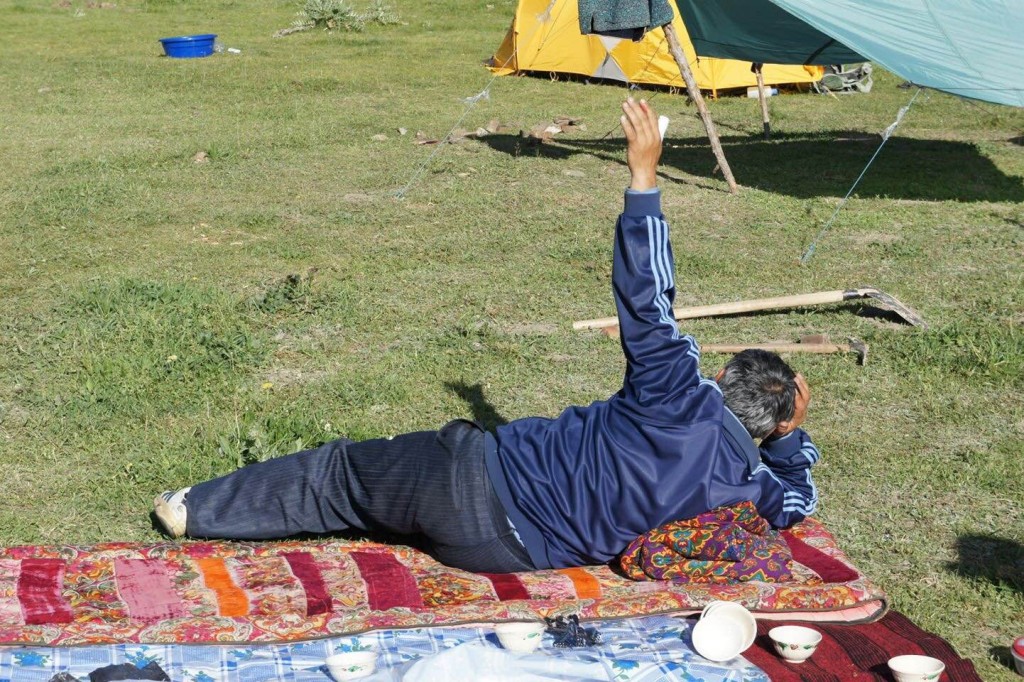 Image credits: 1) Flickr user bghull, some rights reserved. Changes were made. 2) Jacob Winter, with permission, rights reserved.
---
Taylor is a doctoral candidate in archaeology at Kiel University.