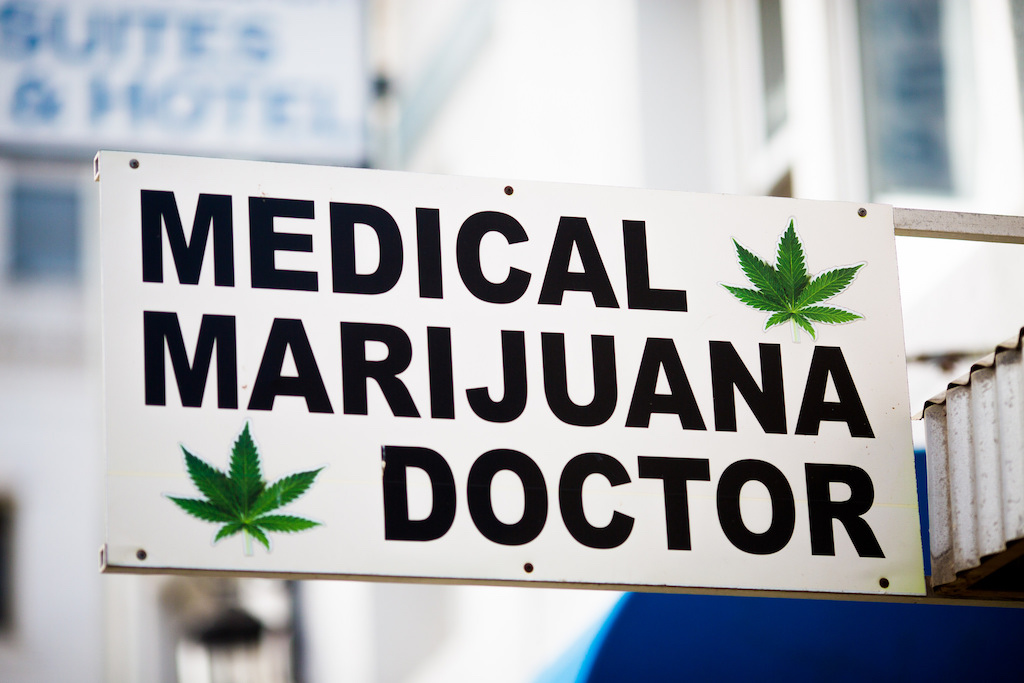 I used to be a pot doctor. That is, I certified patients to use medical marijuana (MMJ) when I practiced as a licensed naturopath in Washington and Arizona.
This is not unusual for naturopaths. My former colleagues who had family-oriented practices certified patients to use MMJ in every naturopathic clinic where I worked. There are also MMJ mills that cater to large volumes of patients who actively seek out MMJ certifications. In Seattle and Tucson, I held part-time jobs at such MMJ mills.
Like most other naturopaths, I entered the MMJ business for the money. The average naturopathic graduate has as much debt as a medical school graduate but has poor job prospects. Mainstream medical positions are rarely available to naturopaths and for good reason—we are not trained in medicine, but in a pseudoscientific belief system that resembles medical school only on the surface. The earnings from MMJ jobs provide a much-needed boost to naturopaths struggling to make ends meet.
Many naturopaths in Washington and Arizona rely on income from MMJ authorizations. For them, pushing pot is a lucrative calling but not one without legal and ethical problems.
---
Becoming a pot doctor
My first job authorizing MMJ was at a well-known pot clinic in Seattle. I had already been working for about a year at a naturopathic family practice in what was considered a "naturopathic residency." I made an annual salary of $29,000 without benefits. I needed extra income to pay student loan bills from attending Bastyr University. At $39,000 per year, tuition at Bastyr costs nearly the same as the Mayo Clinic School of Medicine—a top medical program. First-year residents at Mayo earn $53,270 with benefits.
I found the job on Craigslist. The ad sought naturopaths for part-time work certifying MMJ and promised good money. I was immediately hired. My plan was to work there for six months, until I could find a higher paying position as a primary care provider. Little did I realize that I would end up working at two other MMJ mills up until I finally left my naturopathic career.
I started in a new corporate building in downtown Seattle. The space was larger than necessary, complete with a kitchen and conference room. The pot clinics I had seen were located in sketchy parts of town and operated out of run-down offices. Many had barred windows, security doors, and bodyguards.
The MMJ business attracts a clientele from every walk of life, including drug-seekers and those with criminal records. As anyone would surmise, patients expected a guaranteed authorization from MMJ mills, especially by naturopaths. But sometimes disappointment would turn threatening. After being denied authorizations, some dissatisfied patients had to be escorted out of the clinic by security. I became comfortable saying, "Please leave, or I will call the police."
This would be the safest MMJ job I held.
'Drug dealing under the guise of medical care'
My job at the pot clinic grew on me. I was exposed to eclectic patients with an assortment of medical conditions. Many of the patients had been diagnosed with diseases that I had not been exposed to in my naturopathic clinical training at Bastyr. The job was immediately more interesting than working in naturopathic "primary care," which centered around generalized lifestyle advice and questionable treatments for the worried well. Plus, I made great money, and the atmosphere was laid back.
But I was also embarrassed to be a pot doctor. I knew I was working in a grey zone.
Marijuana is still federally illegal and classified as a Schedule I substance by the U.S. Drug Enforcement Agency (DEA), which considers it to be a highly addictive drug without any medical value. The arguably outdated federal status of marijuana may change over the coming years as more states legalize the drug and as medical research continues.
I kept my job a secret from coworkers, family, and friends. When I finally told a naturopath and friend, her reply surprised me: "Oh yea, I work at a pot clinic on the weekends. The money is awesome!" She also had crushing student loan debt but from Southwest College for Natural Medicine. (This year, tuition there is $35,354.)
When I told my boss at the naturopathic family clinic about my second job, her response was unexpected: "We authorize MMJ here too!"
She kept this quiet by not advertising MMJ. She described it as providing authorizations to those uncomfortable visiting a pot clinic.
Like the vast majority of alternative therapies that naturopaths provide for which good evidence is lacking, MMJ is not much different. David Gorski has characterized MMJ as the "new, popular herbalism of the moment." I refer you to his article for a breakdown of the evidence.
But as Ed Gogek, an addiction psychiatrist in Prescott, Arizona, said in 2015, "What's going on is drug dealing under the guise of medical care."

---
Need a marijuana card but don't qualify?
[inlinetweet prefix="@NaturoDiaries:" tweeter="" suffix=""]Getting an MMJ authorization from a naturopath is easy.[/inlinetweet] Here's how it worked:
Prior to a visit, patients were required to show medical records that document a qualifying diagnosis. Criteria vary between states, but by and large include cancer, glaucoma, PTSD, spasms, nausea, multiple sclerosis, and severe (including chronic) pain.
If a patient's records did not document a qualifying condition, the receptionist would call the patient to explain that an MMJ authorization could not be provided . . . yet. The receptionist then frequently directed patients to a doctor or chiropractor who could put together medical records for a qualifying diagnosis. These providers would just feed keywords and symptom descriptions to patients who gladly accepted their new diagnoses.
Patients would then come back to the pot clinic for an appointment to receive an MMJ card. Over just a short amount of time, I remember picking up on similarities in how patients from one to the next described their qualifying conditions. As long as everything was documented and in order, an authorization was granted.
Patients would pay $150 for a first time MMJ authorization, and there was a cheaper rate for renewals. They could pay more to have the clinic process state-required paperwork and also refer friends for a discount. My services consisted of a brief consultation and medical exam. I spent most of the visit writing notes, reviewing records, and discussing risks of using marijuana. And in good naturopathic spirit, I made general recommendations to eat better and exercise more. The whole process took as little as 15 minutes.
I saw a number of individuals who used marijuana for appropriate medical reasons. Cancer patients commonly used it for pain management, nausea relief, and weight gain. I remember patients with debilitating illnesses, like multiple sclerosis, Charcot-Marie-Tooth disease, hepatitis C, and HIV/AIDS, that claimed to benefit from MMJ.
Many others did not medically need marijuana. They probably didn't even have the conditions newly added to their records. Perhaps the most common of these was chronic pain. Generally, young men wanted MMJ for pain, whereas young women complained of nausea and stomach cramping. I believe most patients embellished their symptoms with vocabulary from the MMJ laws or from those providers who filled in their medical histories.
The practice was sometimes tied to doctors who pushed pain pills.
A colleague in Tucson, for example, was regularly referred business from a medical doctor who would not authorize MMJ. He had a problem with his residency and ended up in prescription pain management. She would send patients back his way to get together the annual paperwork for a qualifying diagnosis. This is different than referring out to a specialist for an accurate diagnosis or complex care. It's a way to obtain two different drugs under the guise of medical care.
The MMJ industry attracts illegal activity
Naturopaths are permitted to recommend medical marijuana in three states: Arizona, Washington, and, as of 2016, Vermont.
States that allow MMJ have well-defined rules to ensure medical providers uphold "best practices" for recommending it. The rules require medical providers to review records, establish care, document the visit, sign a medical marijuana certificate, and check for evidence of prescription drug abuse on a controlled substance database.
There have been numerous news stories over the years documenting misconduct by naturopaths working in pot clinics in Washington and Arizona. Jonathon Martin's 2011 Seattle Times article, "No medical records? No problem. Got my pot card at Hempfest" prompted a multi-year investigation by the Washington Department of Health (DOH) into many naturopaths doling out MMJ authorizations. Undercover patients who did not meet the state's qualifications for MMJ were sent into pot clinics and naturopathic offices. Many naturopaths took the bait.
In 2012, Washington naturopath Yuel Luncheon Boyce lost his license for two years after giving pot-laced treats to three undercover cops posing as MMJ patients after they paid Boyce cash for his services. Boyce and I used to work for the same MMJ clinic in Washington (but in a different office location). It was not uncommon for naturopaths at our clinics to dispense marijuana treats as "free gifts" to patients. One smoked pot during his breaks between patient visits. I was told patients could smell the weed from the waiting room.
I was glad to leave this pot clinic behind. Its up-scale façade did little to disguise the illegal activities that took place within. I moved to Tucson where I was hired at a pot clinic called Shop420. I would come to find out, the dingy appearance of this MMJ mill reflected the type of behavior that went on behind closed doors.
The clinic was located on a side alley off Fourth Avenue in downtown Tucson. I distinctly remember being confused about how to enter the clinic because it was surrounded by boarded-up doors and abandoned storage units.
During my interview, I met with Eric Salazar, the shop's owner. He was very nice and professional yet was also seemingly immersed in the dilapidated setting of the clinic. He offered me a job and gave me an advance so I could apply for a DEA number. Unlike in Washington, I was required to be registered with the DEA to authorize MMJ in Arizona. The registration cost about $700.
This clinic made me uneasy. I had found a concerning news story about Shop420 from the previous year. During a police raid of Shop420, six people, including Salazar, were arrested. They were charged with conspiring to sell "more than two pounds of marijuana" and engagement in racketeering. Two employees were also charged with the sale of marijuana, and one of these men was carrying a gun despite being a "prohibited weapons possessor."
After reading the story I spoke with a medical doctor who worked part-time at Shop420. She was a single mom. She told me that she made so much money working at Shop420 that she didn't need another job and could stay home with her kids. She tried to reassure me that the raid was "no big deal." I was not convinced. I worked two or three shifts to pay off the $700 debt and then sent Salazar an email with my notice of leave. I never went near the clinic again.
I found another part-time job in Tucson at a pot clinic run by two cheery ladies. They paid me an hourly wage that was significantly less than what I would have made at Shop420. But I trusted them, and they proved to be good employers. I would have considered this clinic to be the one where I felt the safest, but I was in a state where it was legal and common to carry concealed weapons. Patients were often disturbed and mentally ill. The clinic owner always carried her handgun. I worked shifts there for just under a year, until leaving naturopathy for good.
Medical marijuana in Arizona: a naturopathic stronghold
The Arizona Department of Health Services (ADHS) publishes annual reports on medical marijuana certifications. A report covering July 1, 2014 through June 30, 2015 with demographic data about MMJ users and the practitioners authorizing them shows a clear trend: naturopaths are driving the state's MMJ industry. The ADHS reports that during this period, a total of 77,639 medical marijuana authorizations were provided to patients, of which naturopaths provided 87% that year.
Table 1 below summarizes the ADHS 2015 data on MMJ authorizations by type of provider, including the number of active licenses, number and percent of those recommended MMJ at least once, average number of and overall percentage of MMJ authorizations provider. (Yes, there are "homeopathic medical doctors" in Arizona.)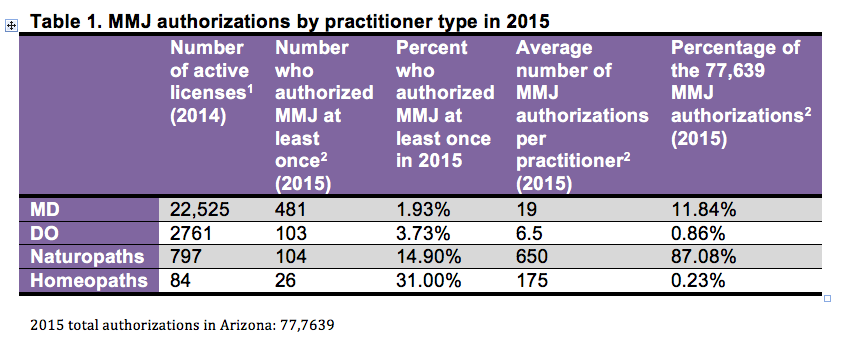 The number of MMJ authorizations by naturopaths over the past four years has been rapidly growing. In 2012, naturopaths certified 18,067 patients, at about 225 authorizations per naturopath (of those who provided at least one authorization). Last year, naturopaths certified over 67,000 patients, at about 650 authorizations per MMJ-authorizing naturopath. With a price of $150 per patient at that rate, a single naturopath could bring in close to $100,000 (about two patients per day). Table 2 below summarizes the increasing number of MMJ authorizations provided by naturopaths from 2012-2015.

Some naturopaths are taking this earning potential to the extreme. Of the naturopaths who gave out at least one MMJ certification in Arizona in 2015, 23 of them accounted for  nearly 50,000 MMJ authorizations. Excluding weekends, such a workload amounts to an average of only eight MMJ patients per day with an annual revenue of about $326,000. This is about right for paying off naturopathic student loan debt.
The graphs below show this explosion of MMJ authorizations by naturopaths in comparison to other providers.
---
The trend is clear. [inlinetweet prefix="" tweeter="" suffix=""]Naturopaths in Arizona are driving the MMJ industry and not always following the rules.[/inlinetweet]
Naturopaths and medical marijuana under fire
A 2014 Auditor's General report of the Arizona naturopathic board found that most of the state's naturopaths consistently failed to comply with the law when authorizing marijuana. I've seen these failures first-hand.
A former colleague of mine was brought before the Arizona Naturopathic Physicians Medical Board for a formal interview related to discrepancies found in the records regarding her MMJ certifications. She was one of many Arizona naturopaths in 2015 that was disciplined for not complying with MMJ regulations while the number MMJ authorizations soared.
Arizona lawmakers passed new legislation in 2015 to reign in naturopaths by requiring them to provide medical evidence that supports a qualifying diagnosis for MMJ, sign a certificate, and check the patient's profile on the state's substance prescription monitoring database. These practices were previously specified in existing MMJ laws, but it seems naturopaths had ignored them, so lawmakers sent a direct message.
Naturopath Elaine Burns, director for Southwest Medical Marijuana Evaluation Center, told ABC15 that these new rules made both the MMJ industry and "naturopathic physicians [sic] look bad." It's not the laws that tarnish naturopaths. It's their lackadaisical authorizing of MMJ that makes them look bad.
At least one lawmaker took specific aim at alternative medicine providers in Arizona. State representative Jay Lawrence introduced bill HCR 2019 to prevent licensed naturopaths and homeopaths from authorizing MMJ. The bill quickly died. A vocal group of natural health crusaders pestered Lawrence with hundreds of phone calls. Naturopaths must have felt relieved.
Conclusion: naturopaths and pot-driven false marketing
Marijuana is not a miracle drug. Like detoxification diets and intravenous vitamin injections, medical marijuana is largely an alternative health gimmick. There is a moderate amount of evidence to suggest MMJ is possibly effective for some conditions, such as chronic pain and reducing nausea. MMJ is a not the "natural" cure-all drug contrary to what naturopaths and MMJ zealots claim. Take a look at these screenshots for examples of how MMJ is pitched to potential customers: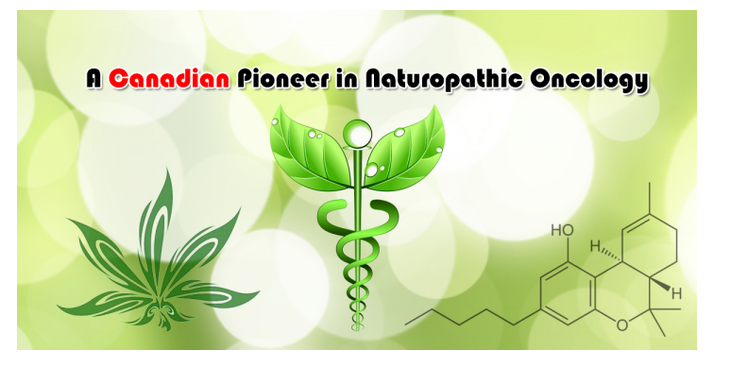 But it is an herb, after all. For most naturopaths in practice, the choice to authorize MMJ is easy. But I find it odd that marijuana was not covered in my botanical medicine courses at Bastyr University. For being a well known "herbal drug," one would expect that naturopathic students would study marijuana in school. This omission speaks to the fact that naturopathic education does not even teach its own specialties comprehensively, let alone evidence-based medicine.
Naturopaths receive very little real medical training in school. I received just a few hundred of hours in clinical training at Bastyr University. Medical doctors and doctors of osteopathic medicine receive tens of thousands of hours of training in their chosen specialty after getting thousands of hours in medical school.
I also received less education in pharmacology than physician assistants and nurse practitioners. Nevertheless, naturopaths are allowed to write drug prescriptions in Arizona and Washington. And despite not being formally trained to counsel patients on marijuana use or on the evidence for it, naturopaths have dominated the MMJ industry since these states passed laws allowing them to authorize patients.
Naturopathic students are borrowing hundreds of thousands of dollars in federal loan money for their training. After graduation, career prospects are grim, and incomes are low. It seems that naturopaths have little choice but to push pot at scales and with health claims that far exceed ethical sense.