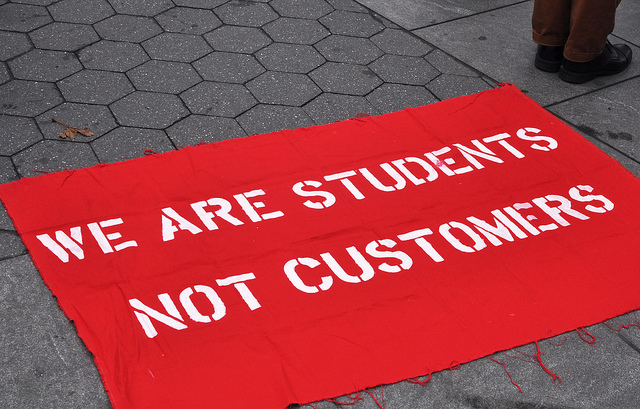 The second part to my ND Confessions series has been published on Science-Based Medicine.org today. ND Confessions, Part II: The Accreditation of Naturopathic "Medical" Education explains the U.S. Department of Education accreditation process for naturopathic schools.
I suspect that accreditation of naturopathic programs serves a financial need for the schools at the expense of students, who are convinced, like I was, that they are in a bonafide "medical school."
Naturopathic doctors take on a lot of student loan debt
I checked my student loan balance this morning while preparing for this post. I owe a little over $333,000 in federal student loans. To call this amount daunting and depressing is an understatement.
Since I thought the ND degree meant I'd have job prospects as a real primary care physician, I assumed I'd have no problem paying back student loans, just like most medical doctors. I also thought I'd be eligible for federal loan repayment programs. I quickly learned, as have my former colleagues, that naturopathic doctors have dismal job prospects and earnings.
The average naturopathic doctor makes $60,000 a year in private practice. To put this in perspective, the average primary care physician income is about $186,000. Despite Bastyr insisting that naturopaths are trained as primary care physicians, their income certainly does not reflect it. (Nor does its training.)
Shortly before I quit practicing naturopathy, I was discussing my student loan situation with an older, financially successful naturopath who went to school in the 1990s. He confessed that had I borrowed private loans for naturopathic school, he would have recommended that I claim bankruptcy to erase the loans, just like he did after graduating from National College of Natural Medicine. He said this was not an uncommon practice for naturopaths graduating from the accredited schools a few decades ago.
Now, private lenders no longer offer loans to naturopathic students (see links 1, 2, 3, 4 and 5). Perhaps private lenders caught onto the bankruptcy declarations, or maybe they realized that based on their incomes, the likelihood of naturopaths repaying debt is poor.
Medical and health professional students are eligible for several loan, scholarship, and loan repayment programs administered by the U.S. Department of Health and Human Services. Unlike other health professionals, naturopaths are not eligible for any of these services, including aid programs specific to primary care.
In some circumstances, naturopaths may be eligible for debt repayment programs, but this is variable and depends on the state. Overall, the state programs that help naturopaths reduce student debt are few and far between. It is a shame that naturopathic schools and organizations are misrepresenting the reality that ND degree holders are undertrained and not highly regarded in the medical community.
Naturopathic doctors are worried
A Facebook-er, who graduated from Bastyr, recently posted that she feels she will never be able to pay back her naturopathic student loans within her lifetime. She even went so far as to say that if given the choice, she would not "do it over again." The assumption on my part is that she wouldn't attend naturopathic school again due to the high cost of education and low incomes for naturopaths. Sadly, hindsight is 20/20.
Around the same time, another Facebook naturopath from Bastyr linked to an article discussing the Whitehouse's "cracking down" on for-profit colleges. He posted that he wondered how naturopathic schools would be affected by the new U.S. Department of Education regulations, as there "are plenty of us that don't meet the income requirements to justify our loans." 
Though Bastyr is a not-for-profit college, the sentiment is the same. Students are being overcharged for degrees that don't qualify them as real doctors.
Naturopathic medicine is not just a bad health decision. It is a terrible career move.
Image credit. Michael Fleshman. Some rights reserved.