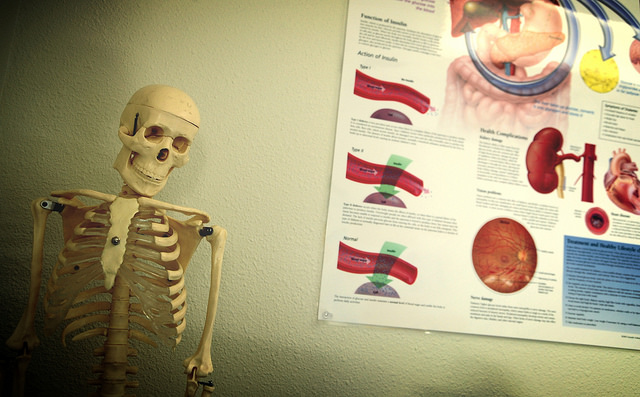 A little bird told me that California naturopathic "doctors" and their supporters are holding a meeting in Sacramento on March 9, 2016 to educate state lawmakers about naturopathic medicine in order to secure support for a stalled bill, S.B. 538, that would, in my opinion, dangerously expand their scope of practice far beyond their training.
S.B. 538 would allow California NDs to prescribe pharmaceutical drugs without the supervision of a physician. Currently, California NDs can prescribe a very limited number of drugs if they have an agreement with an MD or DO to monitor their prescribing practices. This bill would expand their formulary and remove medical oversight.
I want to send a clear message to lawmakers: naturopathic education and training do not give graduates the knowledge and clinical skills necessary to prescribe pharmaceuticals safely and effectively. I would argue that even current limitations for California NDs are too weak. If it were up to me, licensed naturopaths would not have the authority to prescribe drugs. Period.
I went to one of the "best" naturopathic programs (Bastyr University in Seattle) and actually believed that NDs were primary care physicians.  I stopped practicing upon learning that my former boss in Arizona (a licensed ND) had been importing an illegal cancer drug and giving it to terminally ill patients. After a former president of the American Association of Naturopathic Physicians urged me not to report the crime to the authorities, I decided to walk away and never look back, but not before I indeed reported my former boss. I began observing what other licensed naturopaths were doing across the country and discovered that illegal activity was common. My former boss had admitted this stark reality once to me: "all NDs are doing something borderline illegal."
In order to find an explanation for how an aspiring medical profession could appear to be condoning such rampant transgressions, I begin scrutinizing my education and training at Bastyr University. What I learned is frightening.
What is a licensed naturopath?
Naturopaths are licensed or registered in 17 states, two U.S. territories and D.C., as well as five Canadian provinces. Their goal is licensure in all states and territories with a scope of practice equal to primary care physicians. Current ND scopes vary wildly. In Arizona, an ND is considered a "physician" and can prescribe controlled substances and perform minor surgeries. In Alaska, an ND is restricted to providing nutritional advice, counseling, herbs, homeopathy, and physical therapies. This causes consternation for naturopaths and should be a sign to lawmakers that something is not quite right with the profession, as state agencies view NDs so inconsistently. Even worse, naturopathy is illegal in South Carolina and Tennessee!
A licensed ND needs to have graduated from a program accredited by the Council on Naturopathic Medical Education (CNME), which happens to have programmatic accrediting status by the U.S. Department of Education. Many people, especially NDs, often confuse CNME accreditation with government endorsement. In fact, CNME has accrediting power because it meets administrative criteria, such as publishing a mission statement, not because the naturopathic curriculum is medically sound. Tellingly, naturopaths accredit their own programs without consultation from real experts in medical education.
NDs claim they are trained the same as medical doctors, but this is impossible. Much of the curriculum is homeopathy, herbalism, hydrotherapy, craniosacral therapy, chiropractic manipulation, and naturopathic philosophy. Some classes are taught with the same titles as courses in medical programs, but the content is indeed inferior. NDs take gross anatomy, histology, pharmacology, and other basics, but they are not all taught by faculty members with academic expertise. For example, a person who is a "doctor of naprapathy" taught me embryology, and other courses were taught by NDs, often using naturopathic textbooks.
Take a look at this chart comparing the number of hours that certain topics are taught to students in naturopathic, nurse practitioner, and physician assistant programs: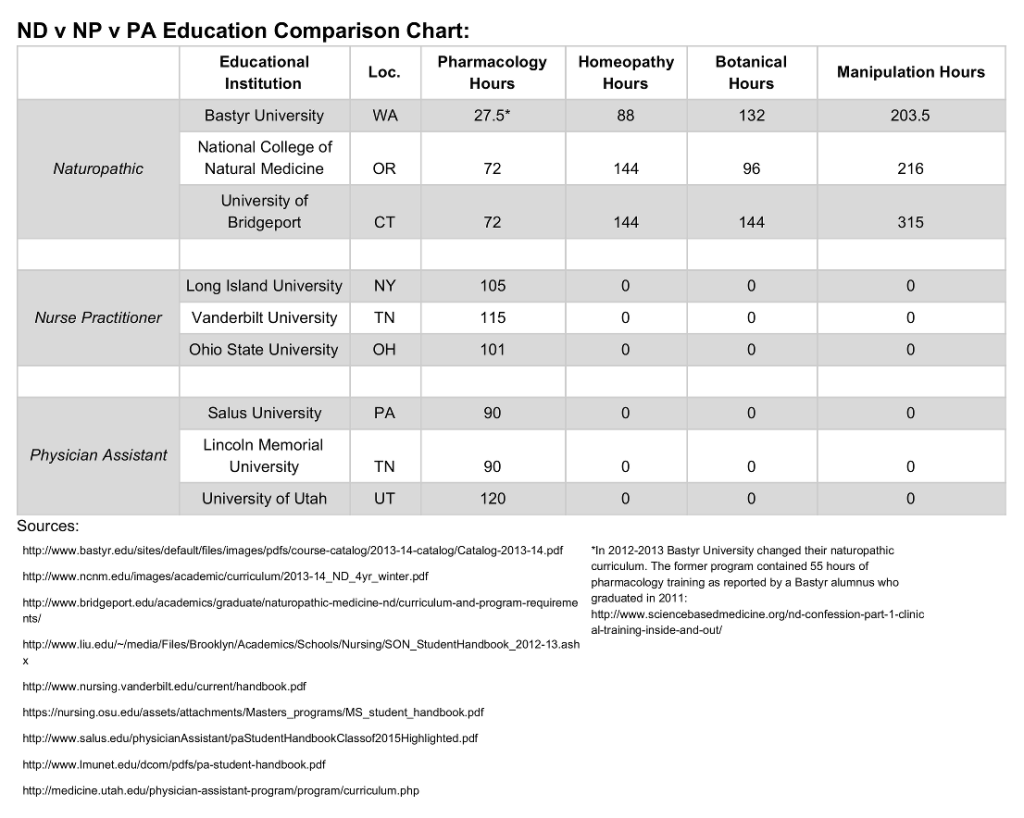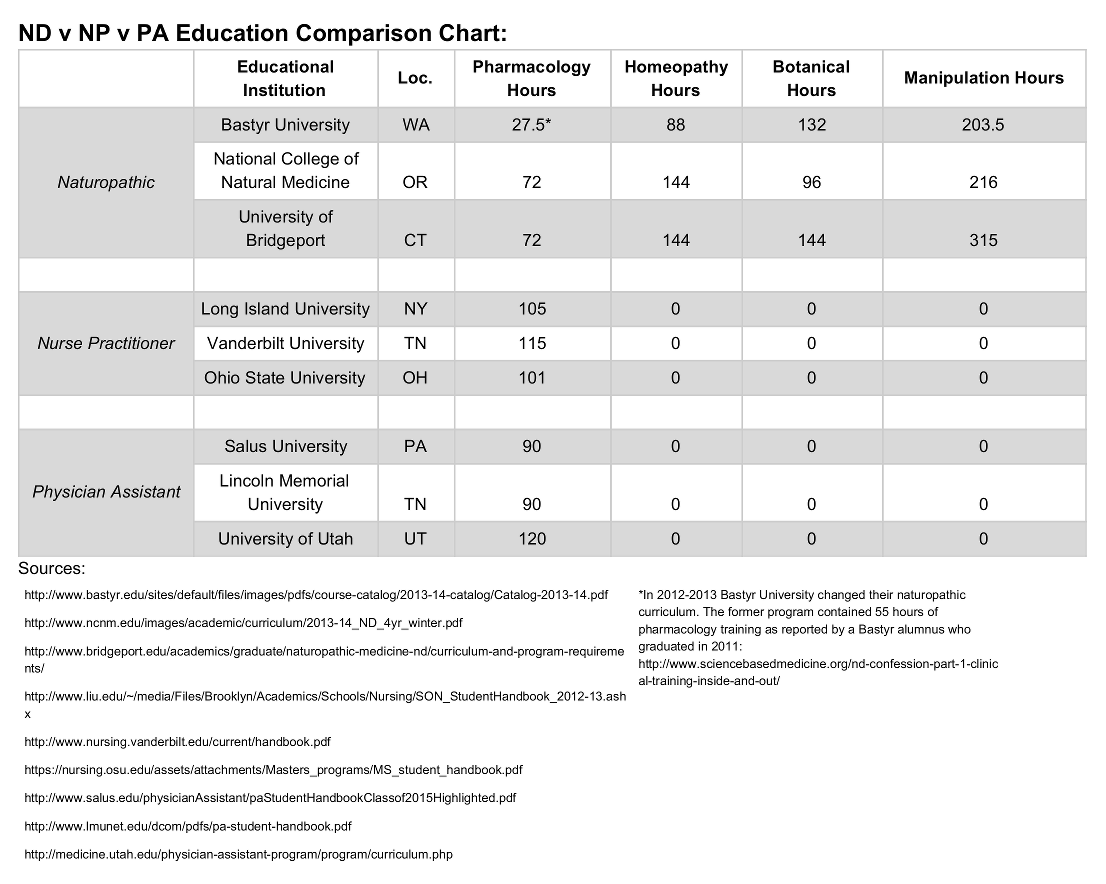 It is glaringly clear that ND students get far less training in pharmacology than nurse practitioners and physician assistants. Now compare the number of hours ND students spend learning homeopathy, herbology, and naturopathic manipulation (most similar to chiropractic). Now remember that NDs want to be able to independently prescribe drugs. This should be alarming to lawmakers, especially since NDs have severely deficient clinical training in anything remotely close to real medicine.
Naturopathic clinical sciences, like pediatrics, contained material that would never be taught in real medical school. We read Dr. Bob Sears's Vaccine Book and were lectured on flawed reasons why vaccines should be avoided or delayed. We learned to put sliced onions over a child's ear for an infection and other folk remedies, like wearing wet socks at night to "boost the immune system."
Naturopathic clinical training is mandated to be no less than 850 hours of direct patient care. From my clinical training handbook at Bastyr, I discovered this benchmark is attainable only through accounting tricks. For example, time counted when students reviewed a case with peers or when we observed advanced students perform physical exams. We were required to have contact with a minimum of 350 patients (now 450), with some having certain diseases. Yet, because Bastyr's clinic generally gets patients with a limited range of minor problems, we could gain competency by giving oral presentations to other students on diseases we had not seen. All of this happens under the supervision of instructors, who were educated and trained under this system or one with weaker requirements before the 1990s.
Naturopathic students are not trained in medical standards of care, let alone reality. Instructors would commonly discuss a patient's "vital force" as if this could be detected with magic. Frequently, patients presenting with nonspecific symptoms were diagnosed with dubious food allergies, chronic Lyme disease, adrenal fatigue, or yeast overgrowth. Patients would be prescribed an assortment of herbs and supplements, conveniently sold at the clinic's dispensary, and handed a superbill for insurance reimbursement. Naturopathic residencies are rare and function as an encore to clinical training with more "real world" experience in naturopathic private practices or at the notorious Cancer Treatment Centers of America, for example, if one wanted to become a FABNO, a made-up board certification for naturopathic oncologists. (My boss who was importing illegal cancer medications was a FABNO.)
Licensed naturopaths do not deserve government endorsement
Compared to a physician (MD or DO), nurse practitioner, or physician assistant, naturopaths are not prepared to manage patients' health care. Yet, NDs argue they are the solution to the great primary care shortage. This real health care problem cannot be fixed with blatant quackery, such as homeopathy, anti-vaccine propaganda, and paltry clinical training based on pseudoscience.
Naturopathic "medicine" appears to have an ethical framework unlike anything in the medical community.  I could not have learned this more abruptly than being discouraged by prominent members in the naturopathic community from reporting a federal crime. Months later, I fully realized the danger of naturopathic self-regulation when the state's naturopathic board disciplined my former boss with a mere slap on the wrist in the form of a letter. NDs claim to be a profession of competent and noble doctors, but they train students to practice quackery and to look out for one another, not the welfare of their patients.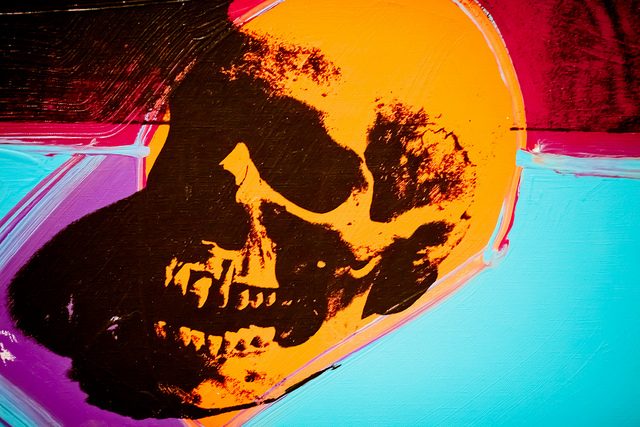 California already faces a serious problem with naturopathic regulation. The California Naturopathic Medicine Committee and the California Association of Naturopathic Doctors have chosen to ignore scores of licensed NDs who are currently practicing a completely bogus and dangerous "treatment" in which ozone gas is infused into a patient's bloodstream. According to the current Naturopathic Doctors Act, ozone is not a substance that can be legally given to a patient by any route of administration, but a simple Google search turns up countless NDs who advertise the therapy. This is a complete lapse of medical and moral judgement. Ozone is extremely toxic and corrosive, and the FDA has unequivocally stated that ozone is ineffective for any medical condition.
There is one naturopathic program in California. It has been reported to me by multiple individuals that the Bastyr San Diego campus is riddled with administrative problems and extremely low quality instruction, even by naturopathic standards. In 2014, there were rumors circulating that students were planning to file a lawsuit on issues related to education fraud. Recently, I've heard directly from those involved with the school that the program's purpose has amounted to a great disappointment. I would be stunned if anyone visiting this quasi-medical school located in a corporate business park found the quality of education impressive.
Naturopaths seem so embroiled in alternative and old-timey practices that they tragically disregard standards and patient safety. Given their poor medical education and commitment to fanciful principles, NDs are bound to do more harm than good.
California lawmakers, please reject licensed naturopaths.