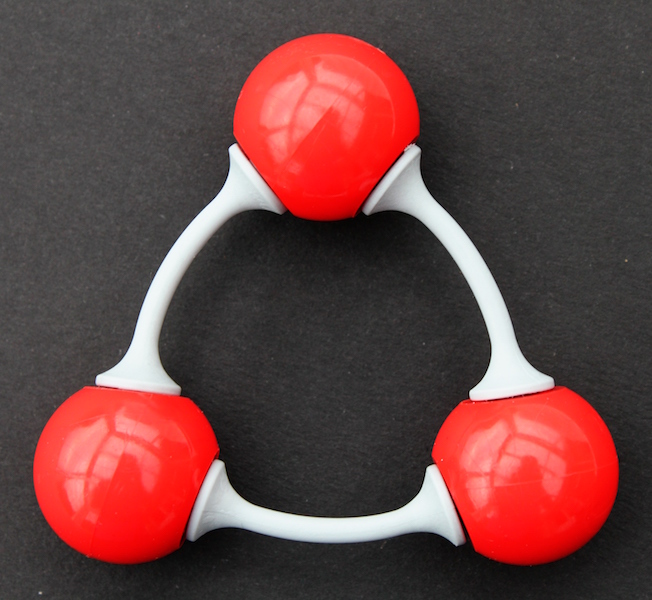 Tomorrow, Monday May 23, 2016, licensed naturopaths and their students will "storm" the offices of lawmakers to lobby for naturopathic medicine. This day will mark the culmination of the annual naturopathic lobbying event called D.C. Federal Legislative Initiative (DC FLI) organized by the American Association of Naturopathic Physicians.
Yesterday, I wrote a guide to understanding the main lobbying points used by naturopaths. The bottom line is that naturopaths' pants are on fire.
While licensed naturopaths grossly misrepresent themselves to advance their agenda of being recognized as "primary care physicians" and gaining access to the Medicare program, they also don't like to talk much about their use of illegal and dangerous treatments. And, they don't like to face the evidence that naturopathic doctors are incapable of self-regulation in a manner that upholds medical ethics and professional standards.
Today's post focuses on the naturopathic use of ozone therapy.
---
What is ozone therapy?
Ozone is a molecule made up of three oxygen atoms, which makes it unstable and highly reactive. Ozone is toxic and an environmental hazard. It is well established that ozone gas can damage the respiratory system. There is no safe or effective medical application of ozone.
A great deal of energy is required to make ozone. It is produced naturally in the upper atmosphere in reactions driven by intense ultraviolet radiation, which protects the surface of the Earth from being blasted with this UV. Ozone can also be produced artificially in specialized machines employing high-voltage electricity.
The U.S. FDA and Health Canada do not allow manufacturers of ozone generators to advertise or sell them for medical purposes. In 2010, the FDA seized dozens of ozone generators sold for treating cancer, AIDS, and hepatitis. This does not seem to deter naturopaths from acquiring them for use in clinical practice.
Licensed naturopaths market ozone gas for just about anything. I have seen ozone advertised by naturopaths for chronic diseases, cancer treatment, Lyme disease, viral infections, chronic fatigue syndrome, autoimmune diseases, "detoxification," and to "boost the immune system."
Ozone can be administered to patients by bagging the gas over a skin infection or by blowing it into the ear, nose, mouth, rectum, or vagina. If you were concerned about Gwyneth Paltrow's vaginal steaming, imagine if she got her hands on an ozone generator!
Ozone is most commonly delivered by naturopaths through a process called autohemotherapy: blood is removed from a patient's vein, infiltrated with ozone gas, and then returned to the patient's blood supply. I have also seen this blood-ozone mixture exposed to high-intensity UV radiation before it is re-injected.
The practice of autohemotherapy carries significant risks without any health benefit. Patients have died. Plus, autohemotherapy has been an illegal practice in Germany since 1984, but you will find naturopaths advertising ozone therapy as "commonly used in Europe."
The naturopathic use of ozone across North America
The legality of ozone therapy performed by naturopaths varies throughout the United States and Canada, despite the procurement of ozone generators for medical use being a federal crime. Some naturopathic state or provincial associations have been able to write the use of ozone therapy into their licensing laws, such as in Alberta or British Columbia. Other states, such as Oregon, have banned the naturopathic practice of ozone therapy.
Let's take a look at my home state, California.
Ozone therapy in California: A case study
The California Naturopathic Doctors Act, passed in 2003 and amended in 2013, does not permit the use of any gas. Thus, it is illegal to administer ozone to patients. Technically, it is also illegal for licensed naturopaths to administer oxygen. I am assuming emergency situations are an exception, but I could not verify this. I think it is safe to assume that hyperbaric oxygen chambers are also outside of California naturopaths' scope of practice.
Last December, licensed naturopaths in California were able to earn continuing education credits in a course that taught how to "confidently use ozone therapies in clinical practice with an understanding of the safety concerns." The class was just two and a half hours and taught by a licensed naturopathic doctor who graduated from Bastyr University. The course is "approved by the American Association of Naturopathic Physicians and Oregon Board of Naturopathic Medicine."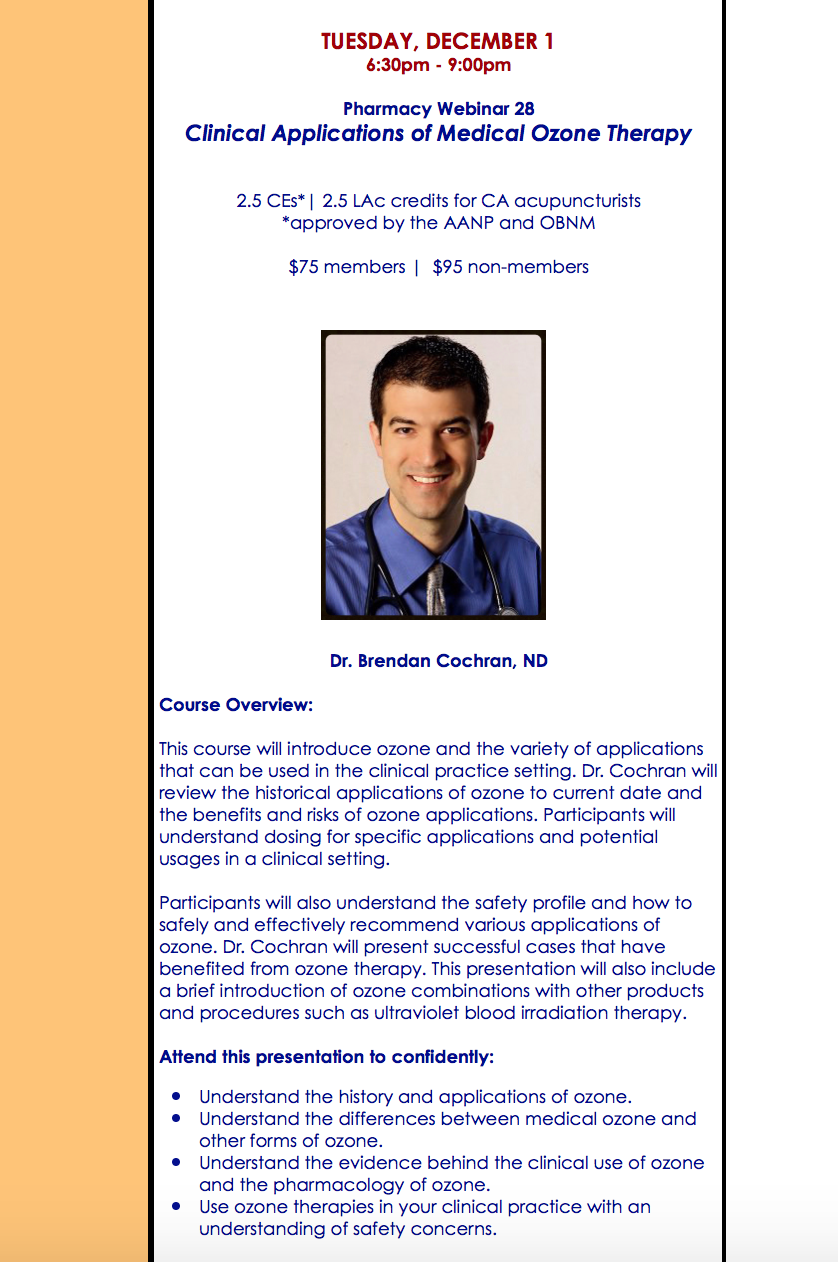 In December 2015, the then president of the California Naturopathic Doctors Association, Setareh Tais, was alerted that someone from overseas had filed a complaint against two licensed naturopaths in Vermont for using ozone autohemotherapy. In response, Tais sent out an email to naturopathic doctors in the California professional association.
Tais urged licensed naturopaths in California to make sure that they practice within their legal scope and follow the "naturopathic oath." The reasoning behind her plea is telling:
We currently have active legislation to expand our scope. Any complaints against our members, especially in "gray areas" of our current scope, could be damaging to the progress of this and future bills. Please take a moment and review your website to ensure you are offering services within your scope of practice.
Tais makes no mention of the dangers of ozone therapy. It is troubling that she characterizes the use of ozone therapy as a "legal gray area," when in fact, the law is unambiguous. She is clearly more interested in the political advancement of California naturopaths over the safety and well-being of patients. She missed an opportunity to act as a professional leader who demonstrates ethical integrity: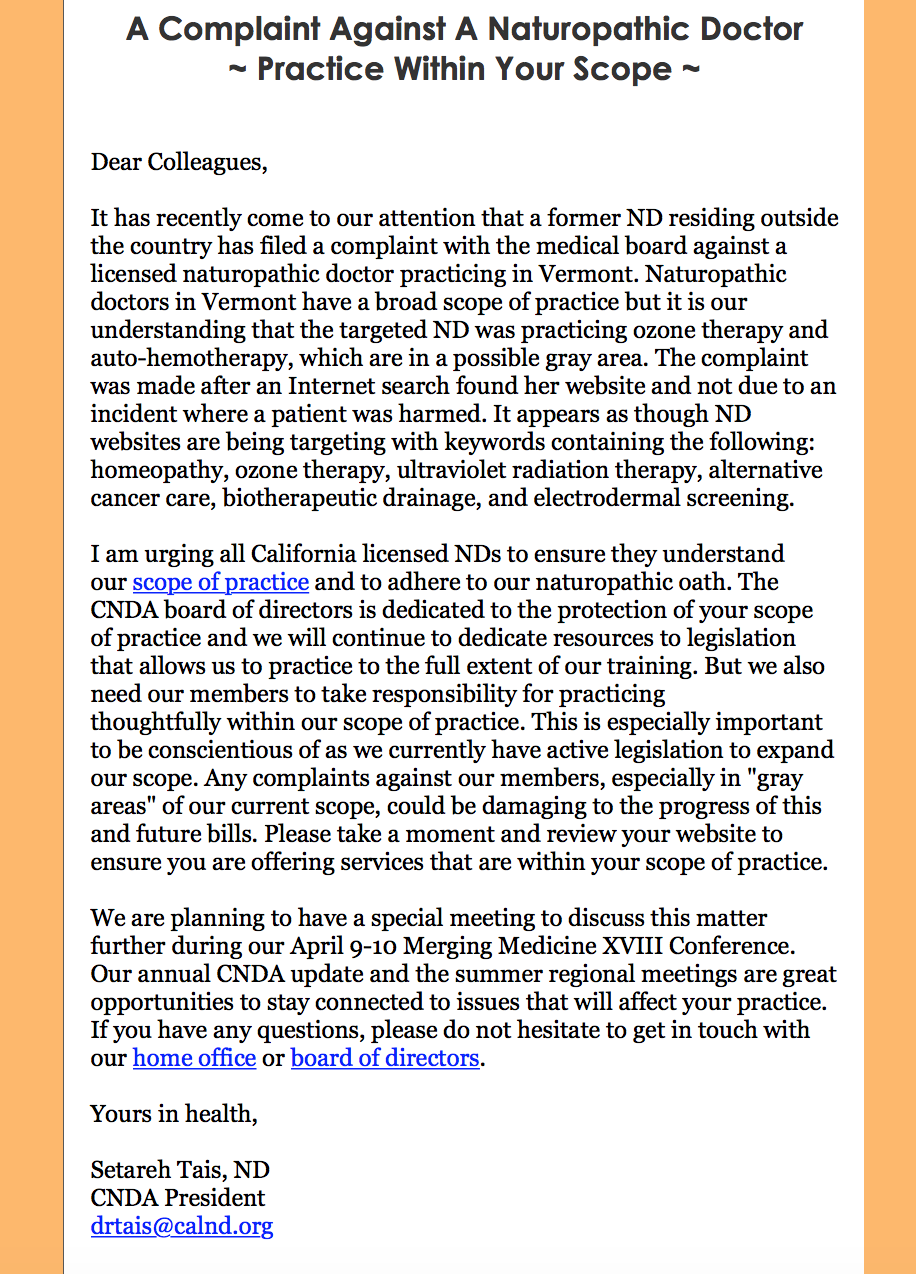 State laws governing medical professions typically include mandatory reporting clauses. These laws require that a licensed medical professional who learns of illegal activity or professional misconduct report their findings to the authorities.
I know Arizona's version of this law well. I reported the actions of my former boss to the naturopathic regulatory board and Arizona attorney general when I discovered that the "special treatment" he was injecting into cancer patients was imported from abroad and not FDA-approved.
While a mandatory reporting law does not appear in the California Naturopathic Doctors Act, it seems reasonable that somewhere else in California law holds all medical practitioners to this crucial standard of professional integrity. If Tais knew that licensed naturopaths were practicing outside of their scope of practice in California, she should have reported them to the state board. Maybe she did. I want to give her the benefit of the doubt, but her email just doesn't reflect this possibility.
Tais is one of few and far between naturopaths who fully support the CDC childhood immunization schedule. She runs a naturopathic vaccine advocacy group called NDs for Vaccines. On the one hand, Tais is supporting the medical standard of care regarding childhood immunizations. But, on the other hand, she may be turning a blind eye to illegal practices of licensed naturopaths in California. If I am right, here is yet another example of a lack of consistency in "holistically" applying ethical standards to naturopathic medicine.
On May 20th, 2016, a complaint was filed with the California Naturopathic Medicine Committee concerning the use of ozone therapies in the practices of 34 licensed naturopaths. The use of ozone by 17 practitioners was confirmed via phone calls, while the other 17 practitioners could not be reached by phone. All 34 offenders advertise the use of ozone on their practice websites. Obviously, they did not read Tais's email.
Ozone across the country
A brief google search for "naturopathic" and "ozone" returns far too many results showing licensed naturopaths across the U.S. advertising the use of ozone therapy in their clinical practices.
In some states, it seems licensed naturopaths are getting away with using this dubious therapy because the law indeed is ambiguous. For example, is ozone therapy illegal if "oxygen" or "medical gas" is listed in a naturopathic formulary?
In other states, such as California, where ozone use by licensed naturopaths is absolutely illegal because it is not listed in naturopathic formularies, state regulatory boards seem to be doing a terrible job of regulating the profession. Have a try Googling the name of the following states + naturopathic + ozone.
(FYI: Not in alphabetical order.)
Oregon
According to Oregon Board of Naturopathic Medicine, which took disciplinary action against an ND for using ozone therapy in 2001, "The therapeutic use of ozone or aetherol, or the use of any ozone or aethezol generating device is strictly prohibited by the Oregon Board of Naturopathic Medicine."
Yet, 19 licensed naturopaths in Oregon are advertising the use of ozone therapy on their websites. A complaint against these licensed naturopaths was also filed with that state's regulatory board.
Arizona
Arizona state law requires substances to be supplied for intravenous use by a manufacturer registered by the FDA or compounded by a licensed pharmacy in the United States. Thus, autohemotherapy using ozone is not permitted as the generators are not approved for medical use. It is not clear if other non-intravenous applications of ozone are within the naturopathic scope of practice. There does not appear to be a publicly available formulary, although no gaseous substances are mentioned in the law.
Naturopathic Rules and Statutes in Arizona
Montana
Montana has ambiguous wording in its law regarding the use of ozone. "Oxygen" appears in the naturopathic formulary. Perhaps naturopathic doctors would argue that ozone falls under this term. This should not fly. Oxygen gas and ozone gas are very different in chemical reactivity and functionality in the body.
Naturopathic Physician Natural Substance Formulary List
Washington, D.C.
Ozone gas is not included in the D.C. naturopathic formulary. "Oxygen" is listed under the miscellaneous subheading. Again, this is ambiguous.
D.C. Naturopathic Physician Formulary 
Minnesota
The Registered Naturopathic Doctor Practice Act in Minnesota lists "oxygen," but not ozone.
Registered Naturopathic Doctor Practice Act, scope of practice
Hawaii
The Hawaii naturopathic formulary lists "medical gas," but provides no further clarification. It is unclear whether or not ozone or even nitrous oxide gas can be legally administered by licensed naturopaths. I would place ozone in the gray zone here. This is terribly ambiguous.
Washington
The Washington state formulary does not list ozone or any other gas as an approved substance for therapeutic use.
Washington State Legislation WAC 246-836-210
Alaska
Naturopaths are not allowed to administer ozone or any other gas. Additionally, the law explicitly restricts NDs from administering any substance considered a "poison."
Colorado
Ozone and gases are not listed in the naturopathic formulary.
Colorado Naturopathic Formulary
Kansas
Ozone and gases are not listed in the Kansas administrative regulations pertaining to the practice of naturopathy.
Kansas Statutes for Naturopathy 
Maine
Ozone is not listed in the standards relating to prescriptive authorities and collaborative relationship in Maine. "Oxygen" is included under the "specific medications" heading.
Standards relating to prescriptive authorities and collaborative relationship document 
Maryland
Naturopaths in Maryland are strictly limited to administering oxygen only in an emergency situation.
Message from the Maryland Board of Physicians 
New Hampshire
Ozone and gases are not listed in the scope of practice for licensed naturopaths in New Hampshire.
Naturopathic Health Care Practice
North Dakota
Naturopaths cannot administer ozone or any gas in North Dakota.
Vermont
Ozone is not listed in the naturopathic formulary. "Oxygen" is listed under the "miscellaneous" heading.
Naturopathic Physician Formulary Rules
Utah
Ozone is not listed in the formulary. "Oxygen" is listed under the "miscellaneous therapy" heading.
Naturopathic Physician Practice Act Rule
Licensed naturopaths are "on notice"
Patients deserve to know that the services offered by licensed medical practitioners are approved by health regulators for effectiveness and safety. Ozone therapy meets none of these benchmarks.
The licensing of naturopaths has not led to patients having increased access to medical care delivered by competent and ethical practitioners. Instead, naturopathic licensing has caused thousands of patients to be exposed to dangerous, expensive, and illegitimate therapies at the hands of practitioners without quality medical training, under the guise of government approval.
To the licensed naturopaths reading this post: you are once again "On Notice."
The choice is yours. Will you report the licensed naturopaths using illegal therapies to your state boards? Or, will you turn a blind eye and allow misconduct to continue running rampant in the naturopathic profession?