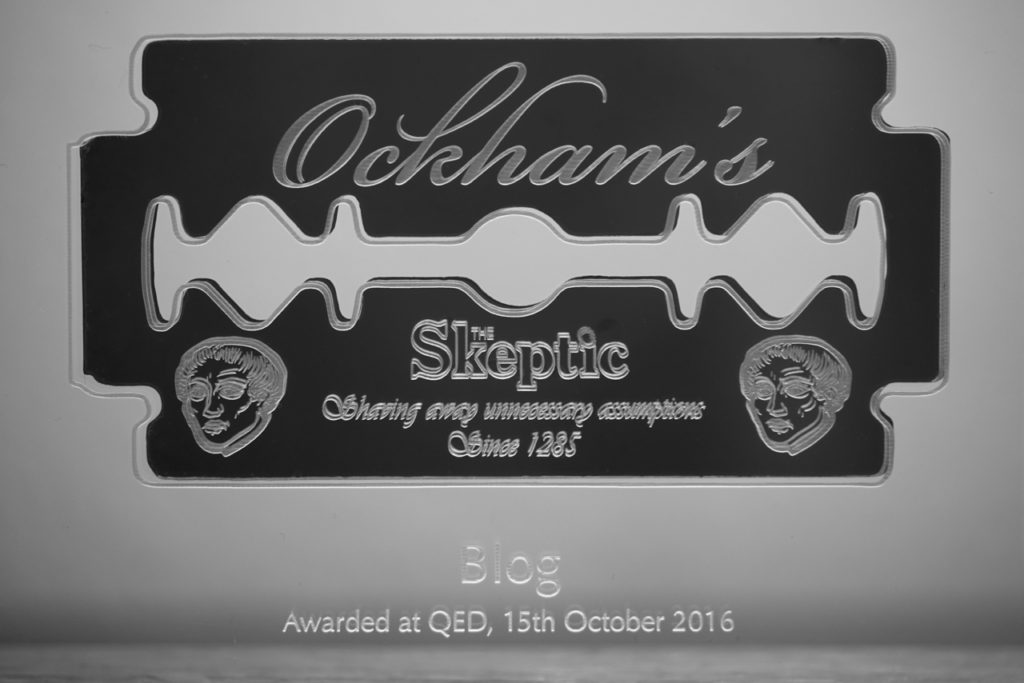 I attended my first QED this past weekend in Manchester, England. Question, Explore, Discover is an annual science and skepticism conference, and this year's QED was the largest in its six-year history. I had a great time and highly recommend that readers attend next year.
I gave a talk on the main stage titled The Right Detox: how to detox an entire belief system in five easy steps. I described how I fell into and then out of being a naturopathic "doctor." (I hope to be able to link to a video of it in the future.)
Here are some reactions and live tweets from the audience:
Thank you, everyone! It felt so great to have such positive feedback.
---
Later that evening, I was touched to be given an Ockham Award for Best Blog, hosted by The Skeptic magazine. Thank you to Caroline Watt, who presented the award.
Other Ockham winners were The Good Thinking Society for Best Campaign; Dr. Suzi Gage's Say Why to Drugs for Best Podcast; and Crispian Jago, who was awarded the Editor's Choice Ockham. Congratulations!
This was a day that I will never forget.
---
Writing about my time as a naturopathic doctor has brought difficult moments. I lost friends and gained enemies. I have been accused of defamation by the American Association of Naturopathic Physicians and its surrogates.
There were times when I wanted to quit. I had several existential crises. I argued with myself that slipping into obscurity may be a better choice, where I could forget my past life as a quack doctor.
My experience at QED reminded me why "Big Naturopathy" needs to be challenged. Patients deserve to know the dangers associated with getting medical care from under-trained practitioners steeped in pseudoscience. Lawmakers need to know that "ND" does not convey medical competency. Rather, it indicates that a person using that title is unequivocally "Not a Doctor." Allowing naturopaths to become licensed and self-regulated endangers the public good.
I lost my former community after I came out as a whistle-blower, but I've gained an international support system of skeptics, scientists, physicians, and friends. [inlinetweet prefix="@NaturoDiaries:" tweeter="" suffix=""]I am standing on the shoulders of skeptical giants.[/inlinetweet]
Thank you! And, an extra big thank you to the organizers of QED for putting together such a memorable weekend!